What We Do and How We Fit Your Institution's Needs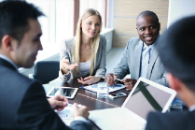 Financial Management Services wants to do two things for you and your institution. We want to improve profitability by increasing net interest margin, and support management with balance sheet strategies. FMSI applies proprietary analytics to the total balance sheet. We work with managers on a day-to-day basis to meet your institution's goals.



Profits increase as your institution's net interest margin increase. How does this work?




Optimizing balance sheet structure, including loans, investments, retail deposits, and non-deposit liabilities.
Utilizing the forward interest rate curve as financial markets define it.
Finding and analyzing the best-yielding investments that complement balance sheet risk, not merely buying the flavor of the week.
Finding the best relative value alternative liability funding sources.
Assisting management in asset/liability pricing models and concepts.
Management Strategy
How can FMSI support your institution's management strategy?
Developing and implementing alternative balance sheet scenarios via asset/liability modeling, asset/liability swap analysis, and total-return outcomes.
Developing alternative strategies that allow decisions to be made with objective information and clearly defined assumptions. This includes knowing the interest rate risk of every strategy.
Utilizing extensive experience and knowledge. FMSI works with the Federal Home Loan Bank system, alternative liquidity funding sources, and institutional regulators like the FDIC, OCC, and OTS. We have more than 30 years of experience in financial institution strategy and portfolio management.
Financial Management Services isn't a bond broker. We assist your institution in selecting and executing both investment purchases and alternative liability acquisitions.
Financial Management Services works closely with clients to maximize net interest income and position balance sheets for the future. If your institution is looking for canned, non-customized reports and strategies that stop as soon as the paper hits your desk, then FMSI might not be for you.
Financial Management Services customized reports for clients' macro-level and micro-level needs. We make sure everyone understands where the institution stands and how well it's prepared for changes in financial markets and interest rate risk. FMSI has specialized data analysis and financial modeling for clients on a quarterly and monthly basis. Financial Management Services advisors strategize with you to work on problem areas and continued profit maximization.
On-site Workshops
Financial Management Services reports and analytics will include specialized, understandable, and customizable asset/liability management workshops created directly for your institution. FMSI can communicate ALM concepts to an institution's management and staff, top executives, and board of directors. We will also prepare each level of management to succeed in implementing recommendations.
Financial Management Services is not a regulatory cost center—FMSI is committed to increasing income and strengthening the balance sheet. FMSI assists management with identifying, measuring, monitoring, and controlling interest rate risk and liquidity risk.